On a scale of 1 to 10, how crafty are you? I'd say I fall somewhere in the middle. Now I know most of you would be shocked at that self-assessment. (Right?! You guys have surely been following along enough to know that my entire business revolves around crafting…) but hear me out!
I don't often have "epiphany" ideas – most of what I create comes from a heck of a lot of research, trial and error, and failed attempts. Creativity has to be cultivated and a lot of that happens from being a student, learning from others around us, and trying new things.
Where am I going with this? I like to share a lot of BTS (behind the scenes) glimpses into how I make things and dye them on my Instagram accounts. And every time, you guys always show up in my DMs. I love having those "wow" conversations with you and I can't tell you how many questions I've gotten about the basics of natural dyeing. I love it when creativity rubs off on people!
I want to create more content that enables YOU to pursue creative things too! A week or two ago, I asked you in an IG poll what sort of a free resource you'd like me to create and the majority of you said – a stamp carving/printing tutorial! (Don't worry if you voted for something else – I'll be creating more things in the future!)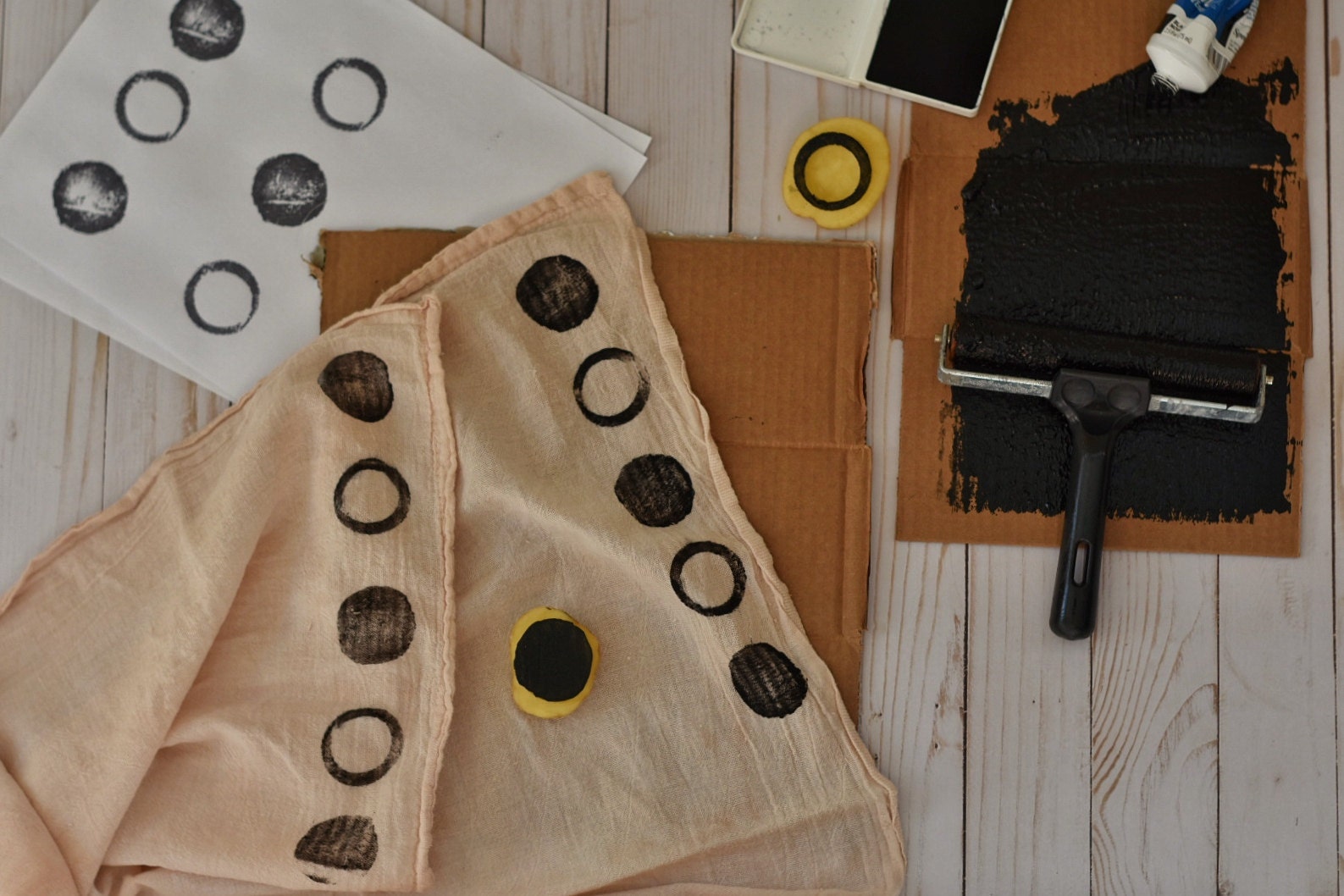 I've done some stamping in my shop and I've learned a thing or two from other artists too (have you seen the amazing block printing work of or ?)
For my project of stamping a kitchen flour sack towel, I used a mixture of the printing tools I own (because I have those around MY house) and things that the everyday person will have around their home. You can go all out and buy the professional tools of the trade – which I recommend for anyone hoping to stamp on a regular basis – or you can make do with things you have on hand!
I really love the final results! Don't you?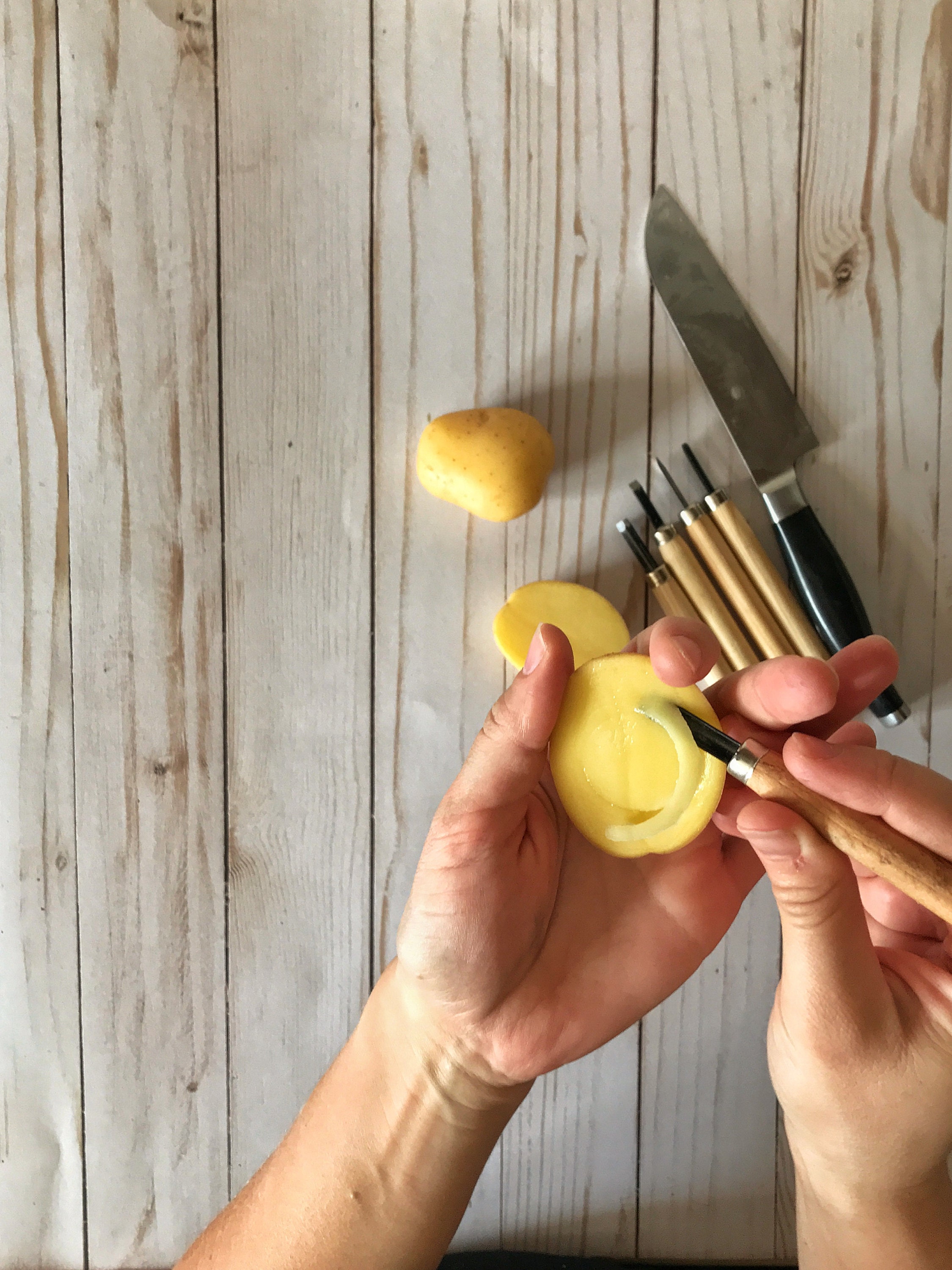 Stamping is fun because you can play around with a large range of repeating and abstract patterns. Pinterest has so much inspo and I've saved a lot of it to my stamping board there!
So… who is this tutorial for? It's for anyone who wants to create one-of-a-kind prints on fabric and/or paper. (I'll bet you have most or all of the supplies at home already!) Are you ready to get started? Click this link below to get my supply list and tutorial instructions!
Click the link above to download your guide, get carving, make some prints, and then tag me on social media so I can see what you create!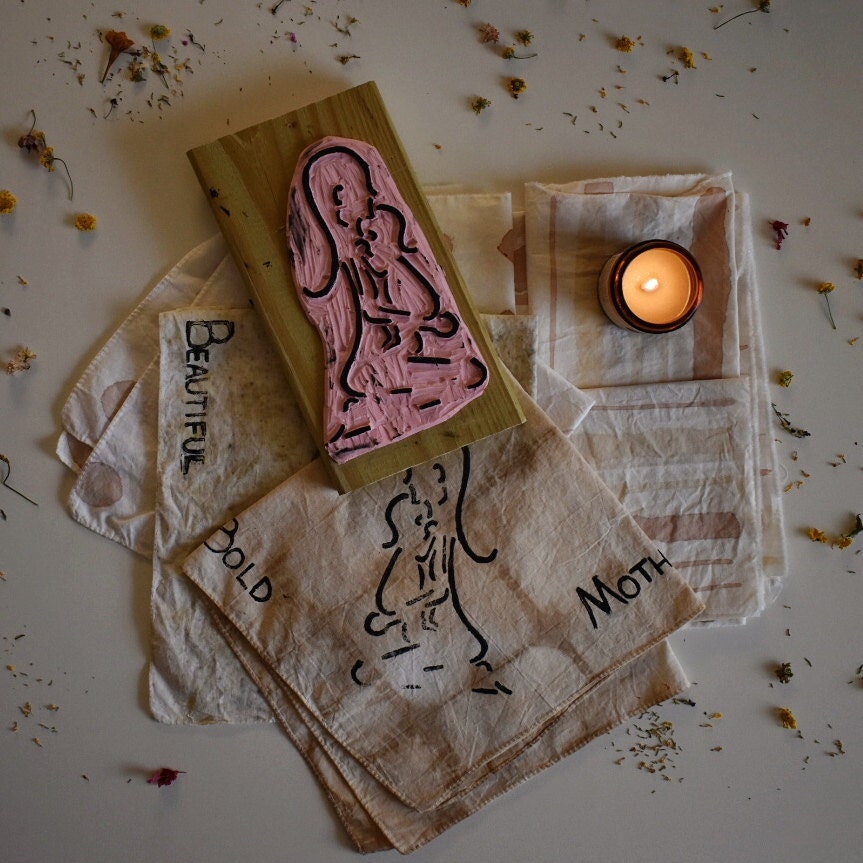 Well Friends,
I hope that these creative ideas have inspired you to make something with your hands this month. If you want to find more inspo, follow me on (I've been obsessed with pinning things lately!) and then join my group board to share some of your ideas!
Happy Stamping!
xo Alex